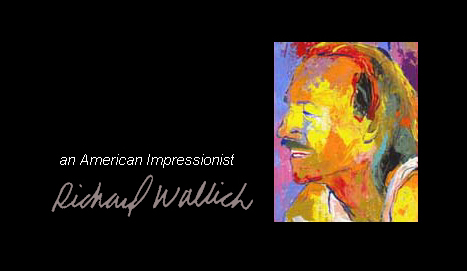 American impressionist Richard Wallich has spent more than 30 years honing his painting talents. Using dabs and swirls of paint, he creates a dazzling array of brightly-colored images - ranging from landscapes to figures to sports scenes. Wallich was attracted to impressionism by the desire to paint quickly and spontaneously, to immerse himself in the painting. "It's a first impression, fast, quick, loose, spontaneous being in the moment, no thinking, just being," he explains, adding, for example, that a dab of color can represent a figure, nondescript perhaps, but clearly a figure.
The Colorado artist also is noted for his use of vibrant, emotion evoking colors. "The element of colors influence the mood, feeling and setting," he says. "A tree is not just green and brown (boring); there are purples, light blues, pinks, reds and so on." The use of color is very personal for Wallich, who adds, "Painting with lots of color brings me joy and satisfaction."
By the time the Chicago native was 9 years old, he knew he wanted to become a painter. He studied art in high school and at Eastern Illinois University. From there, he went to the American Academy of Art in Chicago and studied figure drawing. He first dabbled in realism, but found the style too time consuming - taking up to several weeks to complete a painting. He started using a palette knife and adopted a looser, impressionistic approach, which he has refined and enhanced over the years.
After college he went to work as a graphic designer, but never gave up the dream of becoming a painter. He moved to Rhode Island, where his father-in-law sold some of his paintings, and he took part in several large art fairs. His next stop was San Diego, and while working as a commercial artist, he also did several commissions, mostly related to sports.
In 1987, he moved to Colorado and started a one-man company creating hand-painted shirts for the National Football League. That led to commissions from the Kentucky Derby, Major League Baseball and resorts across the country. The demand became overwhelming, so he switched to creating designs that were then screen printed on the garments. He appeared on the cable shopping network QVC in 1993 selling lithographs and shirts with his Super Bowl design. In 1995, he also created designs for baseball's All Star Game Fan Fest in Arlington, Texas. Hanes also commissioned him to paint 14 designs that were put on canvas and T-shirts for the 1996 Summer Olympics in Atlanta.
He has been commissioned by M&M Mars, American Airlines, Stanley Tools, Pony Sneakers, Tavern On the Green Restaurant in New York City, Kodak, New York New York Hotel and Casino in Las Vegas and MSNBC, among others. Wallich's latest venture is to focus his talents on creating fine art originals and Iris prints. He likes to travel and paint on location.
"I like it when people look at my work and it makes them feel good," he says.