As part of their 70th Anniversary commemoration, Zippo owners Sarah Dorn and George Duke commissioned 300 exceptional solid gold lighters as a tribute to founder George G. Blaisdell. The image on the lighter replicates the design engraved on the Zippo signet ring, commissioned by Blaisdell in the 1940's.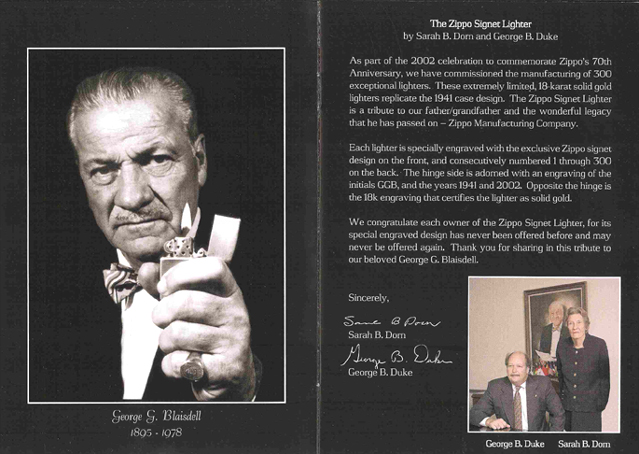 The concept of the ring hearkens back to the 1700's, when individuals wore such rings to imprint a wax seal to secure a document or envelope. The reversed likeness on the signet ring displays the image correctly when depressed into the hot wax seal.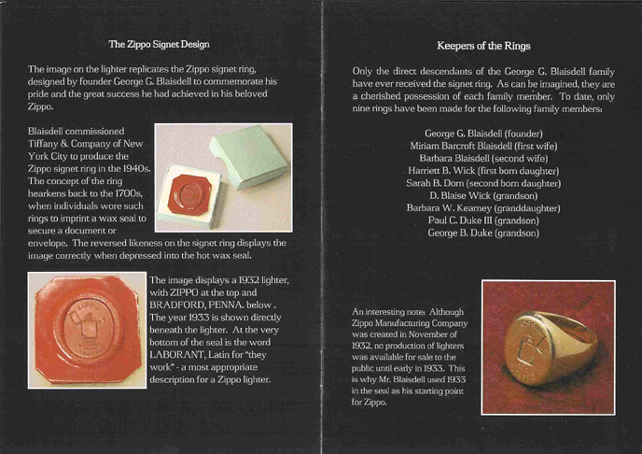 The Zippo Signet Lighter is produced from 18 karat solid gold to the same specifications as the 1941 model, easily recognized by several distinguishing characteristics. The 1941 case has flat planes with sharp, less rounded edges where the front and back surfaces meet the sides, and the lid and bottom are joined with a four-barrel hinge. Each lighter is individually numbered and engraved using Zippo's vintage Pantograph process.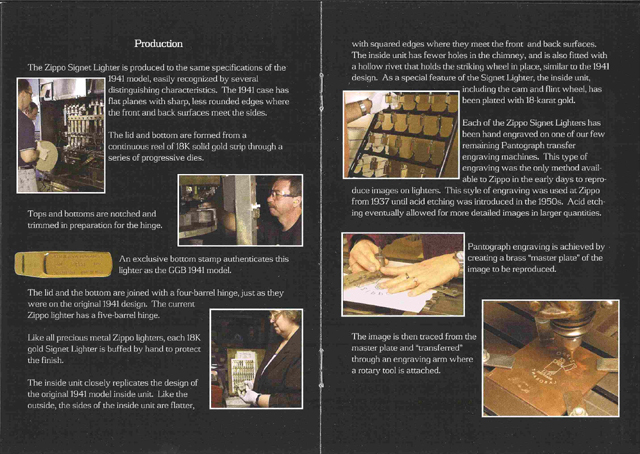 Engraving above and below the four barrel hinge reads: GGB 1941 (for the lighter model) and 2002 (for the year of issue). Engraving opposite the hinge certifies the lighter as 18-karat gold. Each lighter is individually numbered on the reverse bottom surface. The inside unit closely replicates the design of the original 1941 model inside unit. Like the outside, the inside unit has flatter sides, with squared edges where they meet the front and back surfaces. The inside unit has fewer holes in the chimney, and is also fitted with a hollow rivet that holds the striking wheel in place, similar to the 1941 design. As a special feature of the Signet Lighter, the inside unit, including the cam and flint wheel, has been plated with 18-karat gold. An exclusive bottom stamp authenticates this lighter as the GGB 1941 model.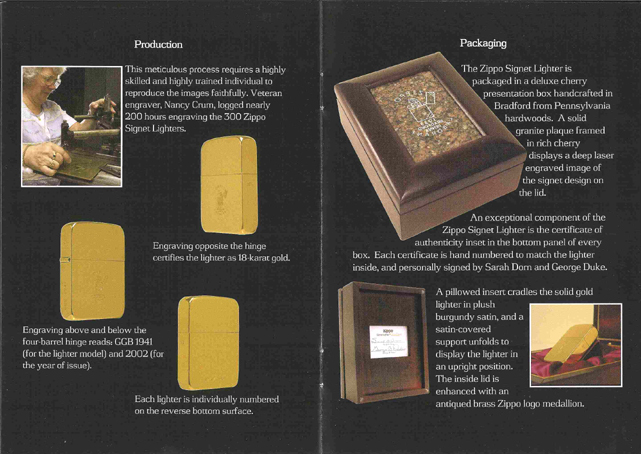 The Zippo Signet Lighter is packaged in a deluxe cherry presentation box handcrafted in Bradford from Pennsylvania hardwoods. A solid granite plaque framed in rich cherry displays a deep laser engraved image of the signet design on the lid. An exceptional component of the Zippo Signet Lighter is the certificate of authenticity inset in the bottom panel of the box. Each certificate is hand numbered to match the lighter inside, and personally signed by Sarah Dorn and George Duke. A pillowed insert cradles the solid gold lighter in plush burgundy satin, and a satin-covered support unfolds to display the lighter in an upright position. The inside lid is enhanced with an antiqued brass Zippo logo medallion.