75th Anniversary Auction Listing
All these Zippo items were up for bid on Saturday, July 28 from 1 to 3 p.m.
at the Zippo/Case Visitors Center.

Auctioneers & Appraisers
2593 West Five Mile Road, Allegany, New York 14706
www.carterauctions.com
#7501 Harley-Davidson 100th Anniversary Collectibles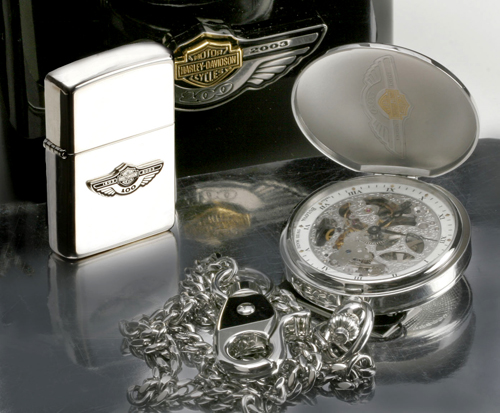 Harley-Davidson Motor Company was founded in 1903 in Milwaukee, WI and has since become the world leader in manufacturing heavyweight motorcycles. In 2003, during their 100 years celebration, Harley-Davidson introduced two exclusive anniversary collectibles, which they in turn donated to Zippo for our own 75th Anniversary celebration auction.
This limited edition sterling silver Zippo lighter features Harley-Davidson's exclusive 100th anniversary logo as a sterling silver emblem and is packaged in a black velour box. This lighter is a prototype of the order placed in 2003 for the 100th anniversary. This collectible was made in the USA exclusively for Harley-Davidson by Zippo and was limited to only 2,003 pieces.
The limited edition pocket watch is constructed of solid stainless steel wit a mother-of-pearl dial ring, seconds subdial, top and bottom covers, and a 15" chain. The 17-jewel mechanical movement, visible through the dial, ensures heirloom quality. This edition, handcrafted by Bulova in Switzerland exclusively for Harley-Davidson is number 1,834 of 2,003 pieces and is displayed in a black acrylic box complete with the Harley-Davidson 100th Anniversary logo.
Winning bid - $300.00
#7502 "Glisten" by Paul G. Fleming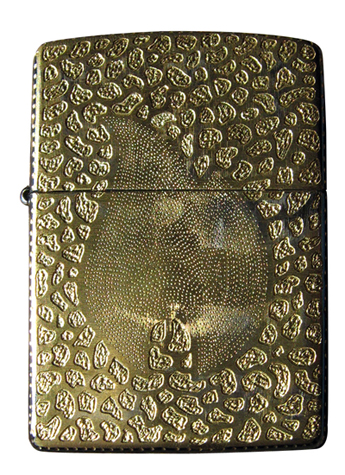 From the hand-engraved bottom to the three-dimensional Plexiglas display, every facet of this collectible is truly unique. Glisten's sapphire finish erupts with intricate, dimensional carving on all surfaces, highlighted by the Zippo flame on front and back.
Artist Paul Fleming enhanced the famous Zippo bottom stamp with hand-engraving affirming that Glisten is No. 1 of 1, and included his initials, PGF '07. This rare collectible is displayed in an acrylic case etched with the Zippo 75th anniversary logo and 75 years of constant flame in an erratic world. A hand-signed certificate authenticates this exceptional lighter was produced specially for the 2007 75th Anniversary Charity Auction.
Winning bid - $325.00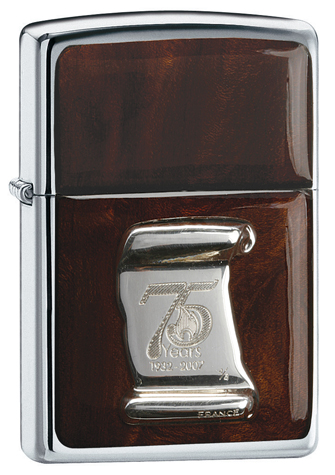 This exquisite lighter is one of three unique pieces designed by Zippo France in honor of Zippo's 75th anniversary.
The silver plated lighter features a full-face multi-layered wooden emblem front and back, enhanced by a solid silver scroll engraved by one of the top artists in France. More than eight hours were required to engrave the astonishing detail by hand, using a fine chisel and hammer. Delicate numbering in the lower right of the parchment design authenticates this lighter as 1 of 3.
Winning bid - $500.00
#7504 Zippo Neon Light Box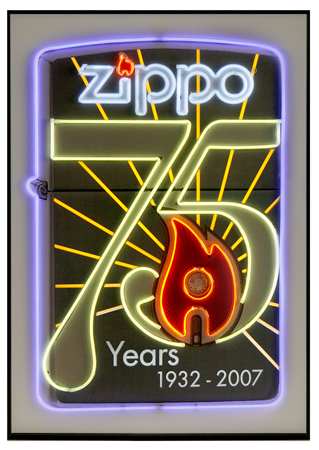 This Zippo 75th anniversary neon light box has been offered to Zippo lighter dealers exclusively in China, Hong Kong and Macao.
Winning bid - $450.00
#7505 Super Bowl XL Championship Set

Own a piece of football history with this one-of-a-kind Super Bowl XL commemorative set. This set includes game-used football #98 of 108 used in Super Bowl XL between the Seattle Seahawks and Pittsburgh Steelers on February 5, 2006 in Detroit, MI. The football, complete with Certificate of Authenticity, is displayed in an etched Pittsburgh Steelers logo case.
The set includes an exclusive Pittsburgh Steelers full face emblem lighter enhanced with Swarovski crystals pillowed in a leatherette box imprinted with the Steelers logo. A total of 1,452 limited edition Pittsburgh Steelers lighters were produced and available through the Danbury Mint.
Winning bid - $3,500.00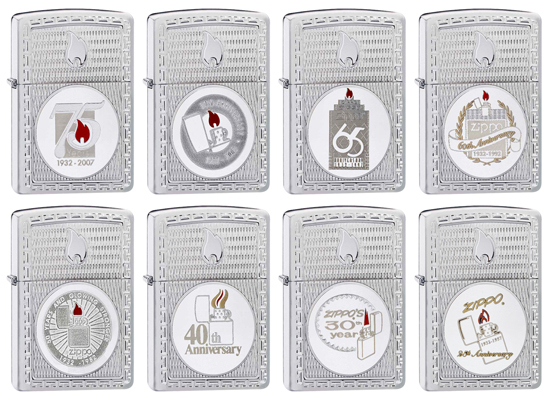 In celebration of 75 years as the world's most dependable source of portable flame, Zippo has produced an exclusive set of eight lighters that depict the Zippo anniversary logos for 25, 30, 40, 50, 60, 65, 70 and 75 years.
Only 15 of the anniversary logo sets were made: one for the 75th Anniversary auction, one for the Zippo archives and the remaining for the members of the Blaisdell family.
The eight logos are deep carved on high polish chrome Armor™ lighters branded with the 75th Anniversary Edition bottom stamp. All eight pieces feature a unique engraved border following the contour of the lighter and a red Zippo flame, the only colored portion of each lighter.
These are the following processes for each anniversary logo lighter:
25th Anniversary: deep carve, laser two-tone, and surface imprint
30th Anniversary: deep carve, laser engrave, rotary engrave and surface imprint
40th Anniversary: deep carve, lustre, etch paint, and laser two-tone
50th Anniversary: deep carve, double lustre and epoxy inlay
60th Anniversary: deep carve, laser two-tone, rotary engrave and surface imprint
65th Anniversary: deep carve, laser engrave, rotary engrave and surface imprint
70th Anniversary: deep carve, lustre and etch paint
75th Anniversary: deep carve, laser engrave, rotary engrave and surface imprint

Winning bid - $3,300.00
#7507 Ayers Rock Collectible

Ayers Rock, also called Uluru, is considered a sacred place by the native people of Australia. The striking monolith 3.6 km long and rises almost 350 meters above the vast pancake-flat red sandy plain of Australia. Zippo's surface imprint process on high polish chrome captures its breathtaking beauty.
This lighter was first produced in 1993, to be sold only in the gift shop at "the Rock". The store closed some three years later and production of the lighter was ceased. This rare lighter is said to be one of the last in existence.
Winning bid - $475.00
#7508 Indian Independence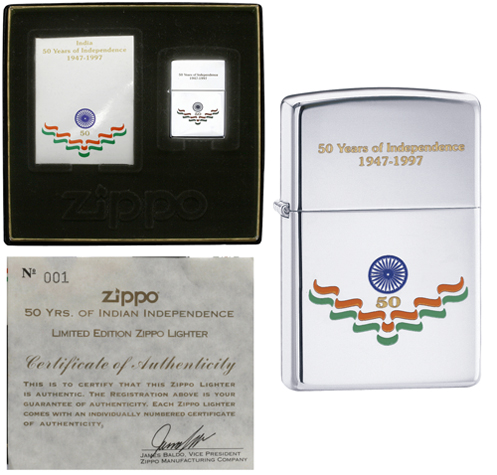 In 1997, India celebrated 50 years of independence and commemorated the event with a limited edition release of 125 Zippo lighter sets. This is number one of the limited edition set, complete with the Certificate of Authenticity. The lighter displays the words "50 Years of Independence 1947-1997" on the lid and a navy blue wheel with 24 spokes, known as the Ashoka Chakra, on the bottom; along with an orange and green ribbon; all dominate in the Indian national flag. This celebratory set was produced in September 1996 and is packaged in a black and gold Zippo gift box.
Winning bid - $225.00
#7509 Last for One Set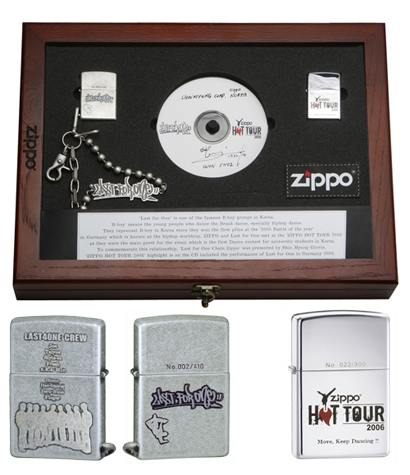 The Korean market has literally put a whole new spin on the Zippo Hot Tour contest looking for the individual or team with the hottest dance moves. Breakdancing, also known as breaking or b-boying, is the preferred dance style of the competition. One of the most famous b-boy groups in Korea is Last For One who won first prize at the 2005 Battle of the Year in Germany and headlined the 2006 Zippo Hot Tour event in Korea.
To commemorate the relationship between Zippo Hot Tour Korea and Last For One an antique silver plate lighter was surface imprinted with the Last For One logo and equipped with a Last For One chain. This limited edition lighter is number 2 of 410. Also included in the set is number 22 of 300 of the 2006 Zippo Hot Tour Korea event lighters.
A 2006 Zippo Hot Tour Korea highlight CD, which also includes Last For One performance from Germany in 2005 is included in the set, all displayed in a wooden Zippo shadowbox.
Winning bid - $350.00
#7510 One of a kind airbrush design by Claudio Mazzi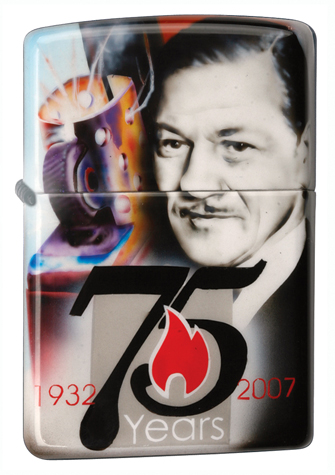 This exquisite Zippo lighter is hand painted by Italian airbrush artist and Zippo licensor Claudio Mazzi.
The one-of-a-kind lighter depicts the face of Zippo founder George G. Blaisdell with his world famous product and the official Zippo 75th anniversary logo.
Winning bid - $1,600.00
#7511 Indian Feather Favorite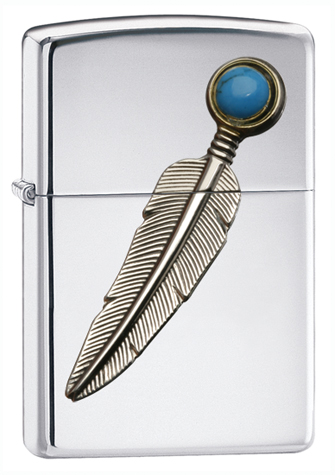 The history of this lighter is simple: it is the favorite model of Zippo's Latvian distributor. This Zippo lighter displays an Indian feather emblem adorned with a brilliant turquoise stone. The high polish chrome lighter was part of the Southwest Series in the 2004 Complete Line Catalog.
Winning bid - $125.00
#7512 Croatian Flag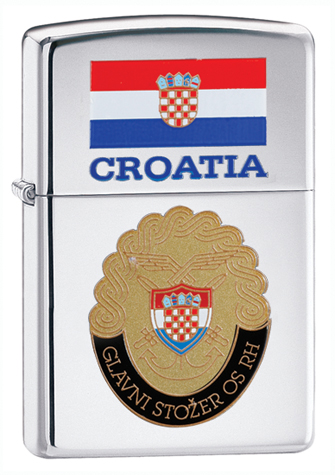 High polish chrome Zippo lighter imprinted with the Croatia Flag. This 2004 sample lighter represents the first time that the Croatian military requested that the Croatian Flag be imprinted on any Zippo lighter. From this lighter, thousands of additional orders for Zippo lighters imprinted with the identical Croatian Flag have been placed for military purposes and to be shared between members of NATO.
Winning bid - $150.00
#7513 Denmark "Stop Violence" Collectible Lighter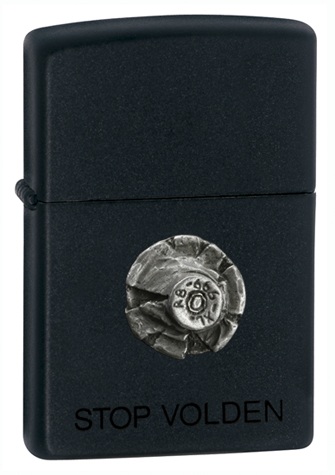 In 1997, Zippo's Scandinavian distributor, Jorgen Isbrand, commissioned this lighter to help stop the violence among young people in Denmark. The black matte lighter has a bullet emblem attached with the words STOP VOLDEN, Danish for Stop Violence, engraved below the emblem.
The stop the violence campaign in Denmark was a great success in part because of these Zippo lighters, and many still carry these lighters today to signal that they are not violent people.
Winning bid - $200.00
#7514 The Irish Claddagh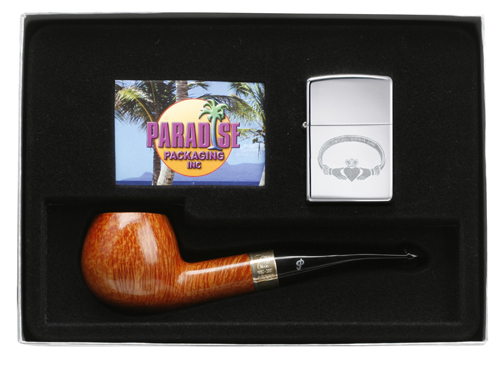 The Claddagh, one of the best-loved Irish symbols is laser engraved on this Zippo lighter produced in November of 2006.
The distinctive design features two hands clasping a heart and is surmounted by a crown. The elements of the symbol correspond to the qualities of love (the heart), friendship (the hands), and loyalty (the crown). Accompanying the lighter is a Peterson pipe engraved with the Zippo 75th Anniversary logo.
This is a one-of-a-kind prototype pipe that will be released as a special 75th Anniversary pipe set later this year. This Peterson pipe has a natural finish — pipes with such a finish are extremely rare and are referred to as "High Grades". In edition to this "High Grade" finish, the pipe features a sterling silver band with the Zippo 75th Anniversary logo engraved on the silver.
Winning bid - $200.00
#7515 W.R. Case Bowie Knife & Zippo Lighter Collectible Set

W. R. Case & Sons Cutlery Company, one of America's oldest and finest cutlery manufacturers, became a Zippo subsidiary in May 1993. To honor Zippo's 75th anniversary, Case has created an extraordinary one-of-a-kind Bowie knife. The custom Tru-Sharp™ stainless steel Bowie blade has been wire cut and embellished with the 75th anniversary logo, along with a custom cut nickel silver guard in a Z-shaped design.
The back side of the blade displays a prototype stamp, and the end cap is engraved with George G. Blaisdell's initials. A heavy wall Armor™ Zippo lighter, deep carved to simulate the texture of the knife handle, is embedded in the genuine Stag handle. The lighter sports the 75th anniversary bottom stamp and the 75th anniversary logo engraved in chrome with a hand-carved stag flame.
winning bid - $2,500.00
#7516 Dracula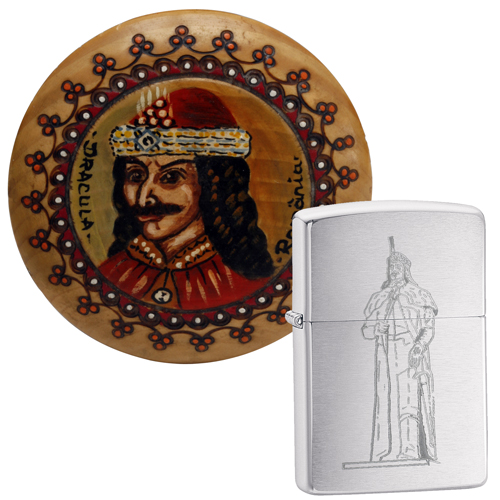 The name Dracula conjures up visions of a bloodthirsty vampire, but in fact, Dracula was a respected leader in ancient Romanian history. The Zippo lighter in this set displays a regal Vlad Tepes, Dracula himself.
Vlad Tepes, Vlad III, was born in 1431, in the fortress of Sighisoara, Romania. His father, Vlad Dracul or Vlad II, at that time appointed military governor of Transylvania by the emperor Sigismund, had been inducted into the Order of the Dragon about one year before. The main goals of such a secret fraternal order of knights were to protect the interests of Catholicism, and to crusade against the Turks.
The word for dragon in Romanian is drac and ul is the definitive article. Vlad III's father thus came to be known as Vlad Dracul, or Vlad the dragon. In Romanian the ending ulea means the son of. Under this interpretation, Vlad III thus became Vlad Dracula, or the son of the dragon. Vlad Dracula was a leader who in his time, rid the country of thieves, bandits, murders and corrupt people.
Accompanying the Zippo lighter is an elegantly painted wooden plaque with the portrait of the great Romanian leader.
Winning bid - $175.00
#7517 Zippo "Bling Bling"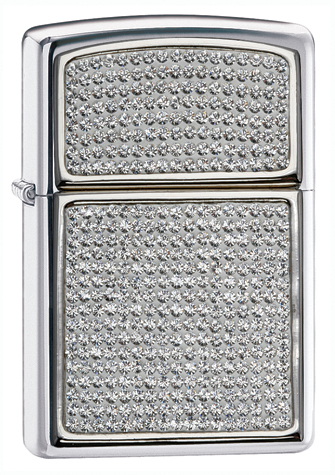 Swarovski crystals and Zippo lighters are known throughout the world. This exquisite collectible is the first production model of the unique new Zippo "Bling Bling" Collection produced solely for Switzerland.
This rare and breathtaking piece is bottom stamped October of 2006 and is pillowed in a black velour case. Like the snow in the Swiss mountains, this lighter will shine everyday.
Winning bid - $450.00
#7518 World Poker Tour Collectible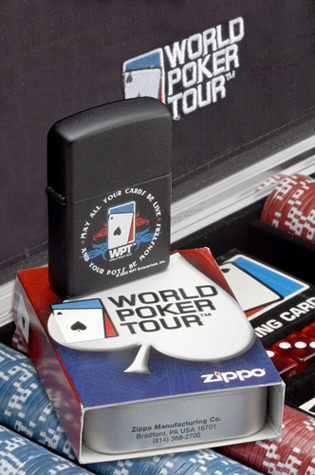 For two years, Zippo has teamed up with the fast craze of the World Poker Tour (WPT) and produced a series of popular poker-themed Zippo lighters. This collectible set contains a sample Zippo lighter that was approved by WPT but was never put into full production.
The black matte lighter displays a surface imprinted WPT design. Accompanying the sample lighter is an official WPT poker chip set in a metal case complete with cards, dice and chips.
Winning bid - $225.00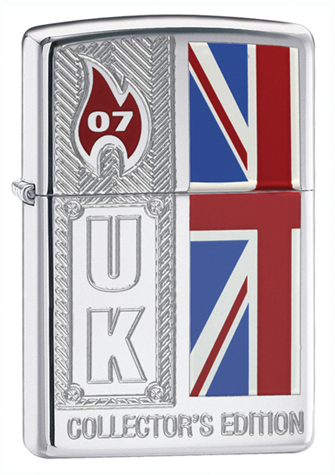 This Armor™ high polished chrome Zippo lighter is the only prototype of the first sample run of the Zippo UK Collectors Club 2007 collectible of the year lighter. Manufactured in September 2006, the initial order was slated to produce 150 lighters indicated on this prototype by 1 of 150 engraved on the side. The actual order that came from Zippo UK raised the total quantity to 200 consecutively numbered pieces.
This one-of-a-kind prototype was produced on heavy-walled Armor, using two processes, deep carve and surface imprint, to capture its exquisite beauty.
Winning bid - $400.00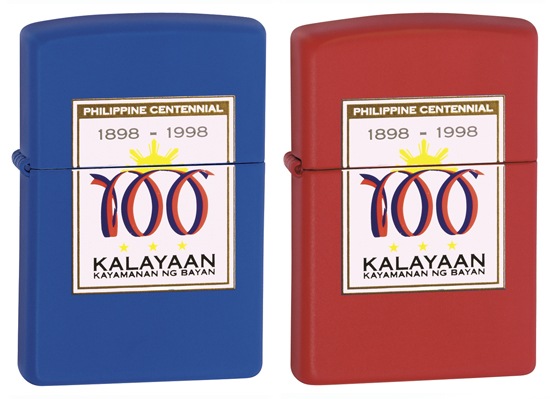 This set of Zippo lighters commemorates the 100th Independence Day of the Republic of the Philippines celebrated June 12, 1998. The Philippines were under Spanish rule from 1565 until 1898.
The surface imprinted design on the Zippo red and blue matte lighters was inspired by the design of the Philippine flag. The words inscribed have great meaning to the Filipino people: Kalayaan meaning "freedom" and the phrase Kayamanan ng Bayan meaning "Wealth of the Nation." There were only 219 of each lighter produced.
Winning bid - $300.00
#7521 One of a kind table lighter by Roseart Company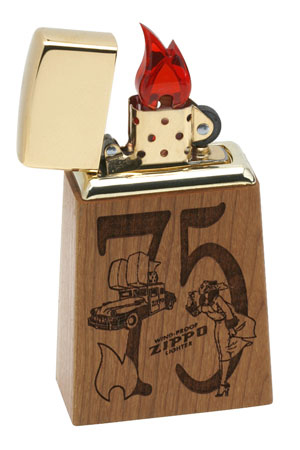 Made exclusively by the Roseart Company for Zippo's 75th Anniversary auction this high polish gold plated Zippo lighter sits in a gold plated trim ring atop a cherry wood base with a Danish oil finish. The front of the table lighter base depicts famous Zippo icons: the Zippo Car, Windy and the world-famous Zippo logo and flame. "Roseart 1 of 1 Limited Edition" is laser engraved down the side and "Congratulations Zippo 75 years 1932-2007" complements the back side.
The cherry table lighter base has only been offered a few select times since the Roseart Company reopened in 2002.
Winning bid - $600.00
#7522 Polish Pride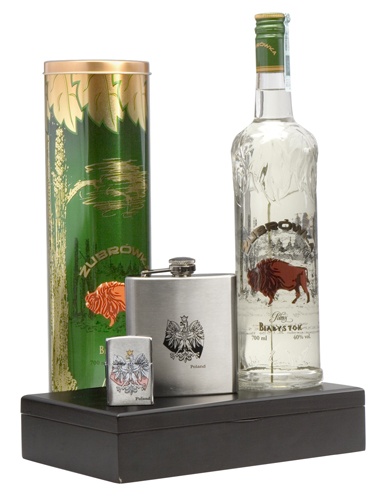 This surface imprinted Zippo lighter beautifully displays the Polish coat of arms, consisting of a white eagle set against a red shield. The eagle is wearing a crown and has golden claws and beak. This collectible set from Poland includes a flask imprinted with the white eagle. The lighter and flask set is pillowed in black satin in a black wooden display box enhanced with a photo montage inside the box capturing Poland's breathtaking beauty and famous landmarks.
This collectible set is coupled with a bottle of Zubrowka Polish Vodka, which is produced and bottled by Polmos Bialystok S.A. in Poland.
Winning bid - $225.00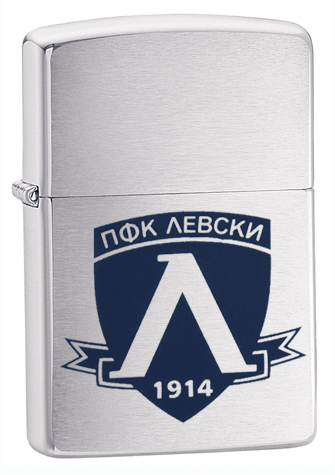 Bulgaria's capital city of Sofia is home to the most supported Bulgarian football clubs, Levski Sofia or simply Levski. This lighter depicts the Levski official team logo. Since its beginning on May 24, 1914, the team has gone on to win some 24 league titles and 25 national cups. Levski is the current champion of the 16-team Bulgarian A Professional Football Group, which is known as the top division of Bulgarian football. Levski has also been competitive in three Cup Winner' quarter-finals and two UEFA Cup quarter-finals.
Winning bid - $150.00
#7524 Robbie Gordon Autographed Zippo Lighter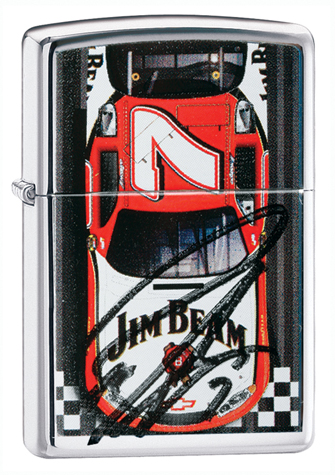 Manufactured in January 2007, this pad printed Zippo lighter depicts the #7 Jim Beam race car crossing the finish line. The pad printed images appears on the top and bottom of the front face of the lighter. Making this NASCAR lighter unique is the autograph of Robbie Gordon that appears on the bottom of the lighter.
Winning bid - $225.00
#7525 The French Trio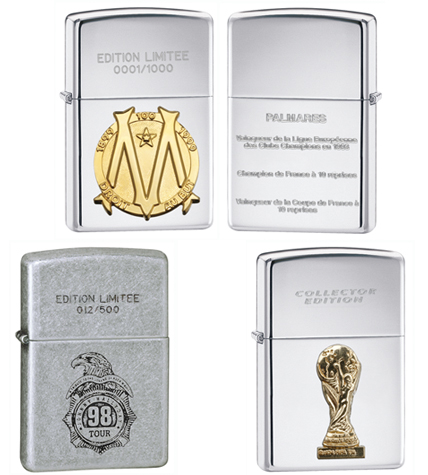 To commemorate the 1998 tour of Johnny Hallyday, the French singer and actor who began his rock'n roll career in the 1960's, this 500-piece limited edition lighter was produced by Zippo France. This particular lighter displays, Edition Limitee 012/500 on the lid and is packaged in a silver Zippo tin. A sculptured World Cup emblem on a high polish chrome lighter celebrates France's 3-0 defeat over Brazil in the 1998 World Cup. Limited to 5,000 pieces this collectible is pillowed in a walnut box complete with the France 98 officially licensed logo.The third collectible is the Olympique de Marseille limited edition Zippo lighter. Numbered one of 1000, this lighter features the football club's motto Droit Au But, French for Straight to the Goal and is displayed in a silver tin. Olympique de Marseille is a Marseille-based football team that plays in the top level of the French Football League. Founded in 1899, it is one of the largest and most successful football clubs in France, being the only French team to win the UEFA Champions League in 1993.
Winning bid - $325.00
#7526 Playboy Prototype Zippo Lighter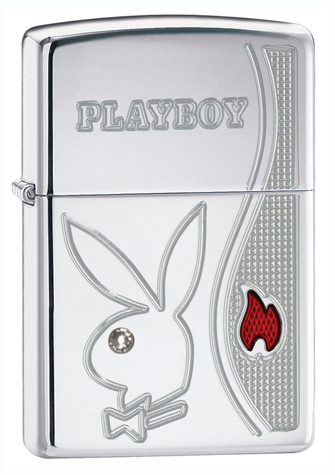 This high polish chrome Armor™ Zippo lighter was developed for release in the 2007 Zippo Choice Anniversary Edition in summer 2007. After being approved by Playboy, the lighter was revised to eliminate the Swarovski crystal as the Playboy bunny eye. This is a one-of-a-kind prototype, the only one with a genuine Swarovski crystal as the Playboy bunny eye, was manufactured in September 2006.
This prototype is engraved on the reverse bottom, "Choice '07 Prototype 75th Anniversary".
Winning bid - $575.00
#7527 Major League Baseball Collectible Set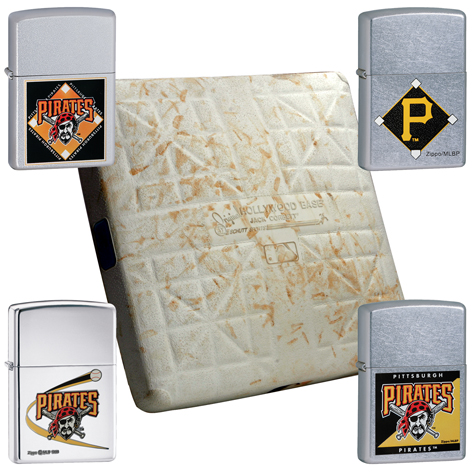 Major League Baseball steps up to the plate with four Zippo lighters bearing the evolution of the Pittsburgh Pirates logo and an official MLB used base.
The quartet of Zippo lighters depicts the changes that the Pirates logo has gone through since 1999. The first lighter in the set was manufactured in 1999 and was available until 2002. The second, manufactured in 2001 was in production until 2004. The logo took a dramatic change in 2004 and remained the same until 2007. The set of lighters is topped off with the MLB Pittsburgh Pirates lighter currently offered in Zippo's full line catalog.
The official base was used during a Father's Day game at PNC Park in Pittsburgh, Pennsylvania on June 20, 2004.
Winning bid - $275.00
#7528 Spirit of Greece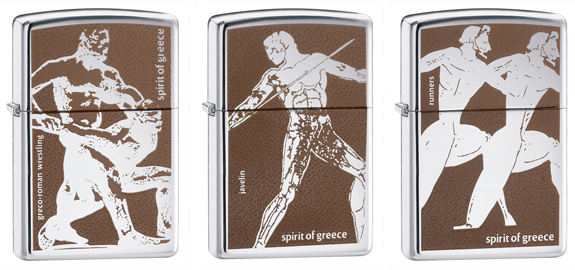 The first Olympics were held in Athens, Greece in 1896 and never returned to its birthplace until the 2004 Olympic summer games. This set of three Zippo lighters captures the spirit of ancient Greek competitors in three Olympic events: running, Greco-Roman wrestling and javelin. The images come together using the Zippo stucco process. The set was produced in September 2004 and available only in Greece.
Winning bid - $400.00
#7529 Treasures from Taiwan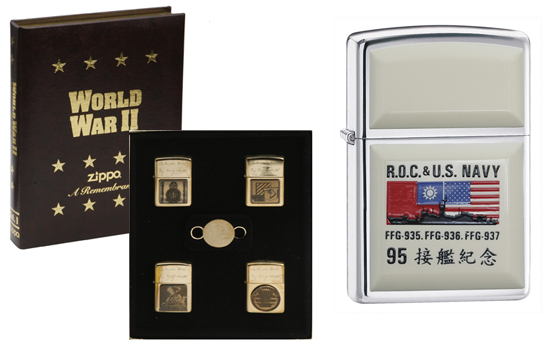 In 1995, Zippo commemorated World War II milestones with Zippo: A Remembrance, Volume One, a set of four solid brass Zippo lighters remembering the Battle of Britain, Battle of the Bulge, Iwo Jima, and the U.S.S. Missouri. Displayed in a leatherette presentation volume, the set is accompanied by a commemorative gold key disc. This set is number 11,153 of the 25,000 pieces produced. The lighters are unique as they are inscribed with "Hole in One by Tony 10/31/95". A Zippo distributor in Taiwan purchased 100 sets and had them inscribed with the date of his first hole-in-one to give to his friends as a memorial gift.
Joining the set is a Zippo lighter that was also produced in 1995. In June of 1994, the Taiwan Navy received three warships from the United States Navy in Long Beach, California: KNOX FFG-935, FFG-936, and FFG-937. Taiwan sent some 1,500 officers and soldiers into training with the U.S. in order to strengthen their military forces. The training was completed in August of 1995, and the Taiwan Navy was officially on duty upon the three vessels. To commemorate that event, 3,000 pieces of this collectible Zippo lighter were produced and given to the officers and soldiers. This Zippo lighter bears the flags of the two nations on an ivory ultra-light chip.
Winning bid - $450.00
#7530 Portuguese Symbolism Collectible Set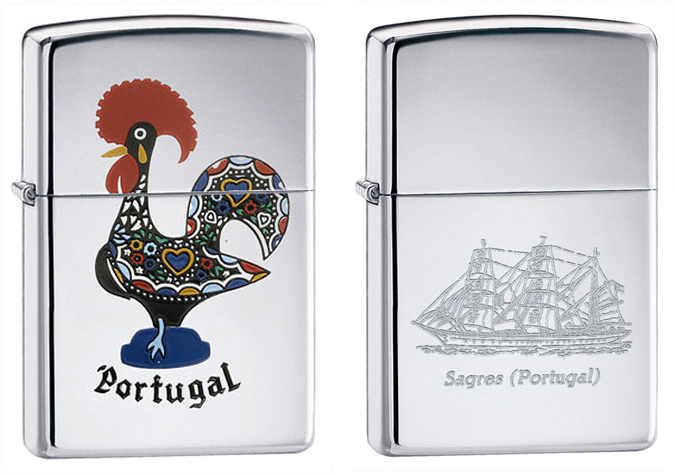 The Galo de Barcelos or the Rooster of Portugal is the country's national symbol, representing honesty, integrity, trust, and honor. The sea vessel Sagres symbolizes the country's fighting strength and courage. This set brings these two icons, both were produced in 2007 and both available only in Portugal, together.
Vibrant surface imprint depicts the flamboyant Portuguese rooster on classic high polished chrome. The majestic three-masted tall ship, Sagres is laser engraved on the second lighter in this elegant set.
winning bid - $125.00
#7531 From the Privat Stock at Jack Daniels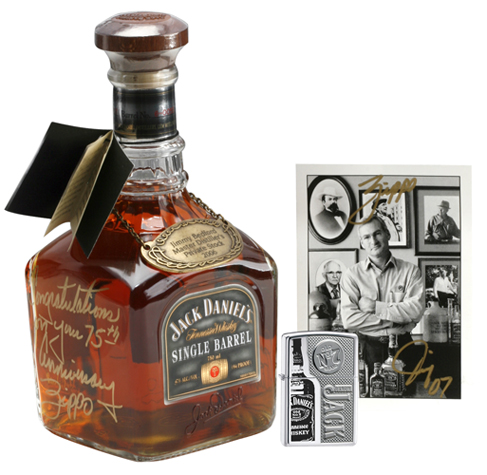 Good things often start in small towns!
From the first barrel in 1866, and still to this day, Lynchburg, Tennessee, is the only place in the world where Jack Daniel's Tennessee Whiskey is produced. This bottle of Single Barrel Jack Daniel's Tennessee Whiskey is from the 2006 Master Distiller's Private Stock of current Head Distiller, Jimmy Bedford. Since 1866, only six men have served as head distillers, starting with Mr. Jack Daniel himself.
The bottle, which is signed by Bedford and CEO of Jack Daniel's, Paul C. Varga, bears the handwritten message, "Congratulations on your 75th anniversary Zippo".
Jack Daniel's bottles only a limited quantity of Jack Daniel's Single Barrel, marking each bottle with a rick number, barrel number and date of bottling. The bottle is valued at over $500 and comes with a signed information card about Bedford.
Accompanying the bottle of Single Barrel is a limited edition lighter, number 7 of 5,000, introduced in the 2007 Choice Catalog Anniversary Edition. The classic "Old No. 7 Brand" logo and new "I Know Jack" slogan are deep carved adjacent to the world famous Jack Daniel's Tennessee Whiskey bottle, surface imprinted on an Armor™ high polish chrome Zippo lighter.
Winning bid - $550.00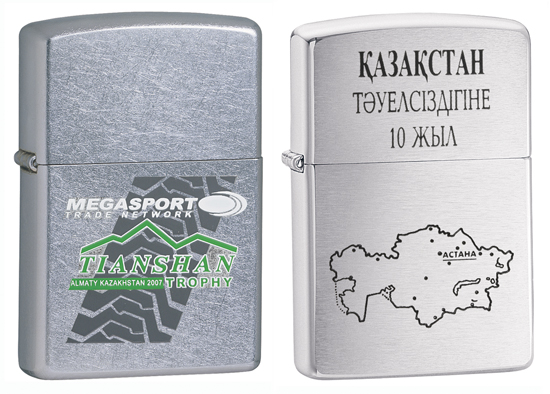 This set contains three Zippo lighters from Kazakhstan, the seventh largest country in the world. Two identical lighters, both produced in 2001 and sold only in Kazakhstan, bear the map of Kazakhstan.
The third Zippo lighter in the set was produced for Megasport Trade Network to commemorate an off-road rally known as Tianshan Rally. The Tianshan Rally is held in the Tianshan Mountains which are the backside of the Himalayan Mountains. This lighter was made exclusively for the event.
Winning bid - $125.00
#7533 Zippo Signet Lighter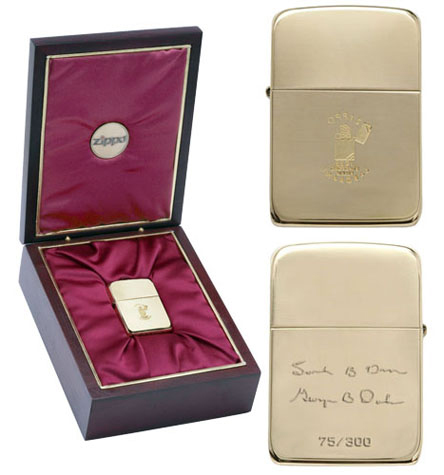 To commemorate Zippo's 70th anniversary in 2002, George Duke and Sarah Dorn commissioned 300, exclusive 18-karat solid gold lighters in tribute to Zippo George G. Blaisdell.
The Signet Lighter is specially engraved with the design of the Zippo signet ring commissioned by George G. Blaisdell from Tiffany Jewelers in the 1950's. The image displays a 1932 lighter, with ZIPPO at the top and BRADFORD, PENNA. below. The year 1933 is shown directly beneath the lighter. At the very bottom of the seal is the word LABORANT, Latin for "they work" - a most appropriate description for a Zippo lighter.
This Signet Lighter bears the engraved signatures of Sarah Dorn and George Duke along with 75 of 300 on the reverse bottom surface of the lighter. The hinge side is engraved with GGB, and the years 1941 and 2002. Opposite the hinge is the 18k engraving that certifies the lighter as solid gold.
This Zippo Signet Lighter is packaged in a deluxe cherry presentation box handcrafted in Bradford from Pennsylvania hardwoods. A solid granite plaque framed in rich cherry displays a deep laser engraved image of the signet design on the box lid. An exceptional component of the Zippo Signet Lighter is the certificate of authenticity embedded in the bottom panel of every box. Each certificate is numbered and personally signed by Sarah Dorn and George Duke. A pillowed insert cradles the solid gold lighter in plush burgundy satin, and a satin-covered support unfolds to display the lighter in an upright position. The inside lid is enhanced with an antique brass Zippo logo medallion.
Winning bid - $2,400.00
#7534 75th Anniversary Prototypes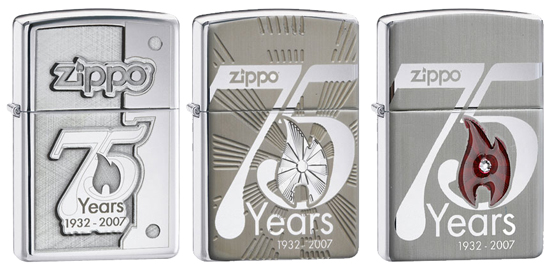 These Zippo lighter prototypes were developed and considered for the limited edition and commemorative 75th anniversary lighters. One of the prototypes is deep lasered, surface mark lasered, epoxy filled with red, and embellished with a genuine Swarovski ® crystal. The second is deep carved and surface mark lasered. Both of the collectible look-a-likes were produced in January 2006.
The third lighter in the set, similar to the two-tone laser engraved 75th anniversary commemorative lighter, was been deep carved and surface mark lasered and produced in September 2005. All three designs are displayed on high polish Zippo Armor™.
Winning bid - $625.00
#7535 Zippo Flamme Deutschland Collectibles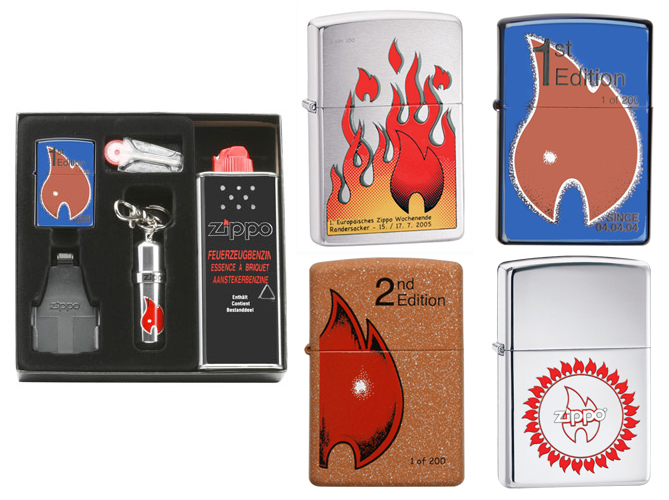 These exclusive club lighters were offered only to members of the German Zippo Collectors Club. Club Zippo 2005 is the club collectible of the year, limited to 200 pieces. Zippo Circle of Light is one of 200 manufactured in 2006 and Zippo Wochenende was manufactured in 2005 and limited to 100 pieces. Each lighter is engraved with Zippo Flamme Deutschland on the side.
The First Light gift set is one of 200 produced for the 2005 European Swap Meet. The "First Light gift set" includes a Zippo Sapphire surface imprinted lighter, a sturdy plastic Z-clip, surface imprinted refillable personal fuel canister, a 6-flint dispenser, and a 4 oz. tin of Zippo Premium Lighter Fluid.
Winning bid - $300.00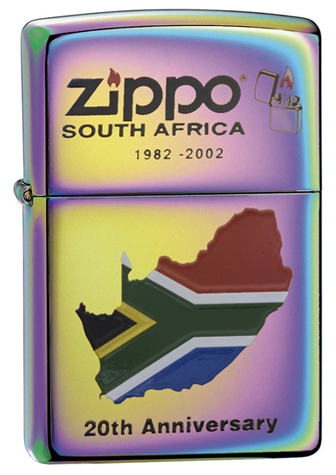 In 2002, Zippo South Africa celebrated their 20th Anniversary. To commemorate the milestone, 50 limited edition lighters were produced and this particular lighter is one of the last remaining of the limited edition run.
The lighter depicts the South African flag colors imposed upon a map outline of the country on a beautiful Spectrum™ model lighter. Zippo South Africa was established in 1982.
Winning bid - $100.00
#7537 Rare Japanese Treasures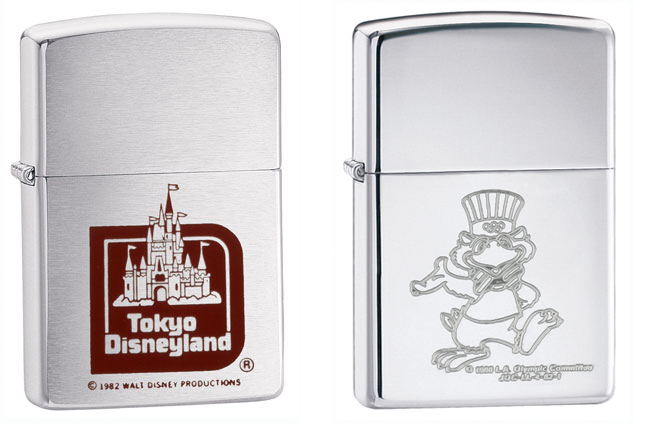 This set of extremely rare Zippo lighters commemorates two historical events: the opening of Tokyo Disneyland in April of 1983 and the Summer Olympics held in Los Angeles, CA in 1984.
The Tokyo Disneyland Zippo lighter was sold for only two years and was then discontinued, never to be sold again. The XXIII Summer Olympiad was held in Los Angeles and "Sam the Olympic Eagle" was named the mascot of the games. "Sam" was designed by Disney artist C. Robert Moore. Japan was given special licensing rights to depict this image on a Zippo lighter.
Both lighters have a date code of 1982.
Winning bid - $1,400.00
#7538 Two Gods & White Gold 1932 Replica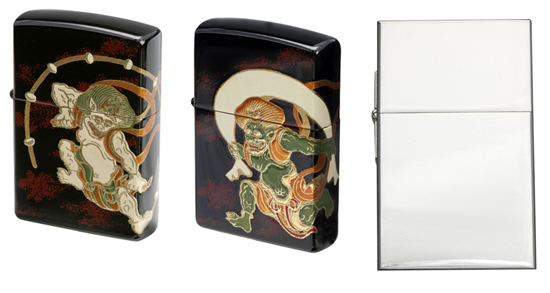 Two Japanese mythical gods of nature, Fujin the god of wind and Raijin the god of thunder are depicted with the Japanese world-class traditional technique of Takamaki-E. This technique, developed during the Muronachi period, is accomplished when metallic powders are applied to soft surface designs built up through a mixture of lacquer and charcoal or clay dust. They were then covered by a protective lacquer coat and polish.
Complementing the mythical gods lighter is a white gold plated 1932 replica lighter, part of the second release of the model. The white gold plated model was discontinued in 1999 and is an extremely rare and valuable piece. The white gold plating is an alloy of gold and one white metal such as silver or allodium.
Winning bid - $600.00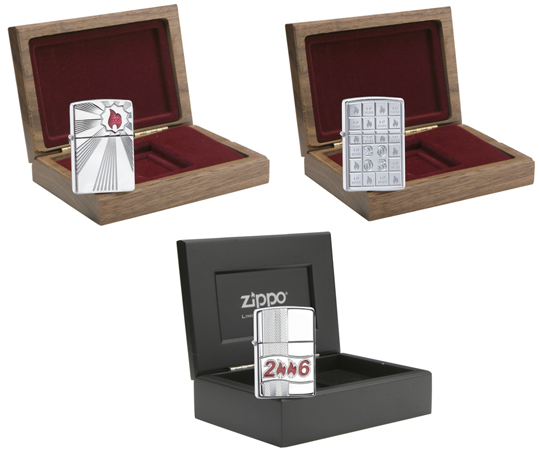 Each of these three lighters is an Annual Lighter of Zippo Germany, one of only 1,000 manufactured for that year.
In 2003, Zippo Germany commemorated their 10 year anniversary with a high polished chrome Armor™ lighter, deep carved with Zippo flames 10 years and 2003. The back is engraved with 1st Decade Lighter 10th Annual Lighter Zippo Limited Edition 2003 0914/1000.
The 2005 Annual Lighter is a high polished chrome Armor™ lighter, deep carved and inlayed with red epoxy to enhance the famous Zippo flame. Inscribed on the back is the German word Jahrgangsmodell, a German word meaning Class Model, 2005 and 0517/1000.
The third lighter in the set is the 2006 Annual Lighter. Like the 2005 model, this lighter is a high polish chrome Armor™, deep carved with a red epoxy inlay. Jahrgangsmodell is engraved on the back, along with 2006 and 803/1000.
Winning bid -$250.00
#7540 Guy Harvey Prints & Lighter Set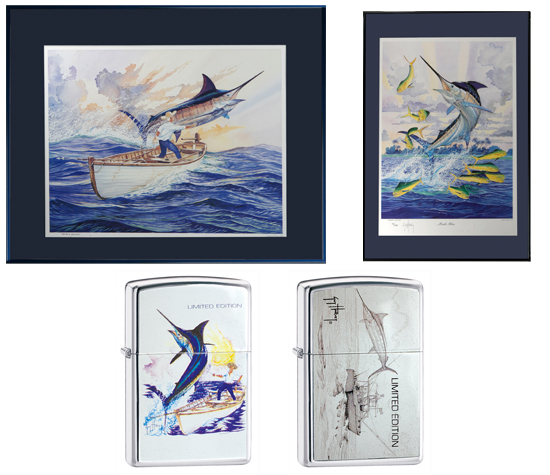 Guy Harvey was inspired at an early age by famous American novelist Ernest Hemingway's Old Man and the Sea and created 44 original pen and ink drawings depicting the story.
This collectible set contains two of those paintings Old Man and Blue Marlin, replicated on two limited edition Zippo lighters. Both lighters, limited to 2,000 consecutively numbered pieces each, are packaged in the Zippo click clack tins. Old Man is number 7 of 2000, and Blue Marlin is number 7 of 2000. Two framed limited edition artist prints, Maui Blue (number 181 of 200) and The Old Man (numbered 167 of 200) accompany the collectible lighters.
Winning bid - $675.00
#7541 Zippo Choice Anniversary Edition Prototype Lighters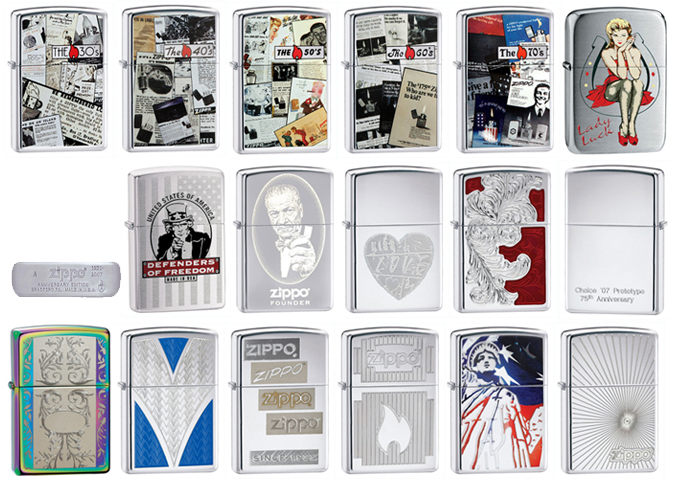 Traditionally, Zippo's mid-year catalog, Zippo Choice, introduces new finishes and customization processes. Of the many, many designs and concepts submitted, only a selected number of lighters are chosen to appear in the catalog.
The 16 lighters in this collection are prototypes of lighters that were considered worthy to be featured in the anniversary edition of Zippo Choice. All of theses prototype lighter designs have been revised and the revised versions will appear in Choice 2007. Engraving on the reverse bottom authenticates each lighter as Choice '07 Prototype 75th Anniversary.
The following is a listing of the 16 lighters and the revisions that were done for the Choice 2007 Catalog:
Chrome Visions - Process was changed to laser two-tone to outline Zippo & flame
Lucky Horseshoe - Removed the words Lady Luck and GGB initials
Defenders of Freedom - Initials GGB were removed and design was modified slightly
For The Love Of Chrome - New production method - Double Lustre and the design was slightly modified.
Zippo Founder -signature George G. Blaisdell was added to the reverse on the revision
Engraved Filigree - Reduced auto engraved area
Chrome Generations - Changed fill pattern
Starburst - Reduced circle at the focus point and a reverse surface was added
Deep V - Blue was changed to a deep shade of blue
Justice For All - Initials GGB were removed and some white was removed from gown
Venetian Floral - First run of lustre under epoxy fill and the design was modified under the red epoxy fill
The 30's - Initials GGB were removed
The 40's - Initials GGB were removed
The 50's - Initials GGB were removed
The 60's - Initials GGB were removed
The 70's - Initials GGB were removed
Winning bid - $650.00
#7542 Zippo BLU Butane Prototype Lighters & Display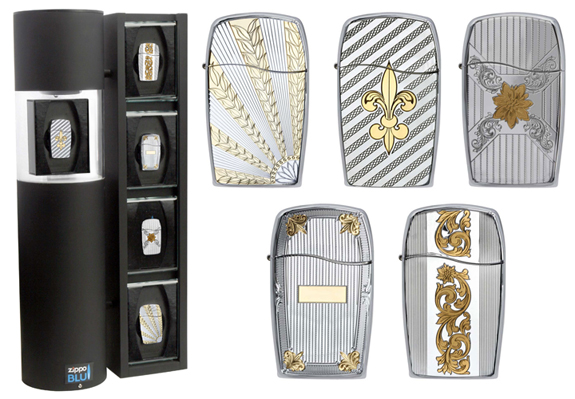 In the fall of 2007 Zippo will launch The Zippo BLU™ refillable butane pocket lighter to the domestic market. This set of five elegant Zippo BLU prototypes have gone through three outside processes to capture their exquisite detail: diamond-drag engraving, selective gold plating and a satin and high polish finish.
These one-of-a-kind Zippo BLU prototypes are showcased in a Zippo BLU prototype display case.
Winning bid - $1,150.00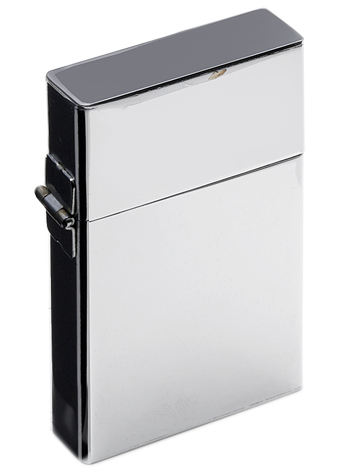 Collectors fantasize about owning an authentic 1933 Zippo lighter, but few ever have the opportunity to make the dream a reality. For the first time, Zippo has extracted an original high polish chrome 1933 lighter from the company vault, and is offering it for bid at this 75th Anniversary Celebration Auction.
This lighter has never been out of Zippo's possession. Distinctive features such as the longer length, sharper side planes, outside hinge, and square corners validate this lighter as a genuine 1933 Zippo model. The insert displays a claw-shaped cam characteristic of the first year of production. The high polish chrome finish is in very good to mint condition.
Winning bid - $37,000.00